I AM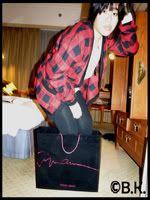 Greetings Earthlings!
I am Beverly Kho living in North side, Manila.
My name means
"Woman from the beaver meadow"
which explains why I look like this.
I have once lived with Anne Frank back in the 1930's. I am allergic to powder and as a result, I have never felt non-sticky.
I have my own river named
'Emotion'
. I have once felt isolated from this world and tried to fit in with the Egyptians.
If anybody has anymore questions beyond art, music, duplication, relevance, obsessions, literature,
heartbreak, disillusionment, love, death, the future, confusion, delusions, homosexuals, sleep machines,
mundanes, eco-friendly and vegetarians, please don't Google my name or ask your "friend who knows about me".
Call me at your Mom's house, I'll be there having a powder party.
Ok, enough about that. As you can see, this blog is filled with
Incubus
that's because
I
AM
a big big fan of them. I look up to them and they serve as my inspiration (Sometimes my distraction. Hi Brandon)
Besides BB and Incubus, I enjoy the sights of...
...FASHION
...ART
...MUSIC
...TRAVEL
Oh, and by the way, if your not using Mozilla Firefox, you won't be able to view my posts.
Cheers!
INSPIRATION
"The world is a drought when out of love
Please come back to us
You're all of the above
I'm making a choice to be out of touch
Leave me be he said, he said, he said,
Leave me here in my stark, raving, sick, sad little world!"


"We're both aligned in framed of mind but circumstance has got us good
And now you're seeing a side of me I wished no one ever would
Yeah, if it's right to pick a fight, we're fingers in a sugar bowl
Love isn't perfect, even diamonds start out as coal"


"Should I apologize
If what I say burns your ears and stains your eyes?
Oh, did I crack your shell?
When it falls away, you'll see we exist as well!"


"I suggest we learn to love ourselves before it's made illegal
When will we learn? When will we change?
Just in time to see it all come down..."


"Was it something I said
Something I read and manifested that's getting you down
Don't you dare come to bed with that ambiguous look in your eye
I'd sooner sleep by an open fire and wake up fried"


"There's something about the look in your eyes
Something I noticed when the light was just right
It reminded me twice that I was alive
And it reminded me that you're so worth the fight"


"Could there be a familiar ring every time I sing about.
Cycle the tears everything in life no doubt I, I.
Reiterate till my jaw is offset,
But I'll say it again anyway,
What you give is what you get!"


"I take a look around; it´s evident the scene has changed.
And there are times when I feel improved, improved upon the past.
Then there are times when I can´t seem to understand at all
and yes it seems as though I´m goin nowhere...
really fucking fast, nowhere fast."


"I'm thinking of my soul severity
And I know everything you hate in me
Fill me up with over-pious badgerate
Throw them up; one of my favorite things"


"I hear you on the radio
You permeate my screen, its' unkind but
If I met you in a scissor fight
I'd cut off both your wings on principle alone"


"Hello!? I'm trying to focus
But my eyes deceive me.
Focus. I'm witnessing history...repeating."


"Picture the scene, where whatever you thought,
would, in the blink of an eye, manifest and become illustrated.
You'd be sure man that every line drawn reflected a life that you loved
not an existence that you hated.
So, must we demonstrate that we can't get it straight?
We've painted a picture, now we're drowning in the paint.
Let's figure out what the fuck it's about,
before the picture we painted chews us up and spits us out."


"There'd be no one to answer to
and complicate our lives,
we could be
the epitome of self sufficience."


"It isn't fair to mention, but it awes the crowd
Your fictional, plastic alibi
So take another hit, steal another line
Did you ever meet a leech who was good at goodbyes?"


"In my fantasy, I'm a Pantomime
I'll just move my hands and everyone sees what I mean
Words are too messy, and it's way past time
To end in my mouth paint my face white and tried
To reinvent the sea, one wave a time
Speak without my voice and see the world by candlelight"


"I saw you standing in my headlights
I thought I'd run you down for the weight you left on me
Instead I punched rewind, reversed and drove away
And seeing you disappear in my rear view
brought to me the word 'reciprocity'"


"You stare at me like I'm a vitamin.
On the surface you hate,
but you know you need me.
I come dressed as any pill you deem fit.
Whatever helps you swallow the truth
all the more easily"


"My secret arsenal
is an infinite, ageless inkwell
it's a fountian of youth
and a patriot's weapon of choice."


"Enough bowing down to disillusion
Hats off and applause to rogues and evolution
The ripple effect is too good not to mention
If you're not affected, you're not paying attention
It's too good, it's too good, not to have an effect"


"I see you in line, dragging your feet
you have my sympathy.
The day you were born, you were born free.
That is your privilege."


"Mend this careless thread, it's gone askew
(Thread on my sweater is pendulous, step back and pull it
Watch it unravel faster than a speeding bullet)"


"I'm at the end of my report again
For those who won't do apathy
You had the perfect opportunity
But plead the fifth and walked away"


"What if I was just dreaming? What if I lived in a pear?
What if I had a mustard drenched cucumber tied to my leg."


"Disconnect and let me drift until my upside down is right side in
Society must let the artist go to wander off into the nebula"


"Two weeks without my lover,
I'm in this boat alone
Floating down a river named Emotion
Will I make it back to shore or drift into the unknown."


"If this is right, I'd rather be wrong.
If this is sight, I'd rather be blind."


"Out of line, and indivisible
A crow left of the murder
Every piece contains a map of it all"


"You came, you saw, you conquered...everyone
And I'm left here guessing
Oh what went wrong"


"Kiss the sand goodbye because
the tide is coming up and in
yeah, water, water, water everywhere
and every chance to sink!"


"High fives to a better judgment
By saying less today, I will gain more
Low twos to you my fickle friend
Who brought the art of silent war"


"Some people fall in love and touch the sky
Some people fall in love and find quicksand
I hover somewhere in between
I swear…
I can't make up my mind."


"Wake up everyone
How can you sleep at a time like this
Unless the dreamer is the real you
Listen to your voice
The one that tells you to taste past the tip of your tongue
Leap and the net will appear."


"I dream
that someday we'll be able to look back
on this together and say
It was for the best and that it
made us stronger today."


"All of my life
Where have you been
I wonder if I'll ever see you again
And if that day comes
I know we could win
I wonder if I'll ever see you again."


"He said Hey Sister.
It's really really nice to meet ya.
I just met this 5 foot 7 guy who's just my type.
I like the way he's speaking his confidence is peaking.
Don't like his baggy jeans but Imma like what's underneath it.
And no I aint been to MIA
I heard that Cali never rains and New York heart awaits.
First let's see the west end.
I'll show you to my bridrens.
I'm likin' this American Boy. American Boy."


"You better think fast, think fast
'Cause you never know what's coming round the bend.
You better not blink, or breathe.
For consequence is a bigger word than you think."


"Put down your hollow tips
And kiss your lover's lips
And know that fate is what you make of it."


"'Cause' what I want
and what I need
is and will always be free."





LEAVE ME
OTHER 'ME' PLACES:
Friendster:
Multiply:
Online Shop:
My Videos:
Look Book:
MySpace
Facebook:
Beverly Kho
Create Your Badge
Twitter:
AFFILIATES:
Ana Deiparine
Angel Yu
Anica Padilla
Chinchi Tan
Coleen Garcia
Henriette Trillanes
Ilana Brown
Jacquee De Borja
Mara Yokohama
Mariel Penafiel
Miriam Pugeda
Myx Rodriguez
Patti David
Sheiqs Tamano
Incubus Street Team Ph Multiply site
FAMOUS READS:
Ala Paredes
Anna Oposa
Bianca Gonzales
Bryan Boy
John Paras
Mich Dulce
Nica Peralejo
Patty Laurel
Saab Magalona
Audrina Patridge
Katy Perry
Perez Hilton
INSPIRATION:
Incubus Official site
The Sartorialist
Ash Castro
Kristine Soguilon
They don't call me BRUTAL for nothing..
Lara Jade Photography
Mara R (mararrrrr)
cotton candy lips
gellikay
GR:: Style With Ambition
heartofpearl
hey beautiful
I've got a lust for life
KARLA'S CLOSET
Little Miss Dress Up
(Mostly) Manila Style
NOELLE CHANTAL
Olsens Anonymous
s t y l e s a m u r a i
The Encyclolydia
VINTAGE LOLLIPOPS
Vintage Petite, you are overdressed.
DROP blogs
Etc.
TheCobraSnake
StyleBible.ph: Preview Magazine Online; Fashion, Beauty and Shopping in the Philippines
Ohh! Crapp...
DISCODUST
Aurgasm | your favorite music you've heard
You Ain't No Picasso
Pop Tarts Suck Toasted
The Music Slut - Reviews, Interviews, Contests, Free MP3s
IHEARTCOMIX!
The Record Robot
20jazzfunkgreats
Funky16Corners
TALK TO ME
LOOK BACK
I CAN SEE YOU
Monday, July 28, 2008 ' 12:13 PM
I start my day thinking about what I've thrown away...
As promised...


Here's the blog entry for our retreat which happened 2 weeks ago.
So, we had our retreat for 3 days. July 16, 17, and 18. I don't want to be too detailed 'coz that will make me bore you guys so yea. I'll just highlight the good ones. Haha.
DAY 1
Angels Hills Tagaytay

was the venue. It was..okay. A bit plain. We toured around the place. Took a lot of pictures since our cameras will be confiscated hours later and will be returned during the last day. Had our rooms and beds assigned. My bunk mate was Ana!
We met our facilitator,

Sir Jojo

. He told us some cool stories and jokes. Some are cheesy though.
We had an activity called

"Human Bingo"

. There were I think 25 characteristics and you will have to choose people that will best fit in those characteristics.
Some girl named

Bevs

won. She's one strategic girl huh. HAHAHA.
I was excited but at the same time, I felt ashamed 'coz they have no choice but to perform whatever it is in my paper, in the center of the circle! Some people were confident and some were not.
We Slept at around 12mn. I was chatting with P until we both felt sleepy. We were trying to get each other to feel sleepy. The boys sneaked in during late night but I was having my dream with rainbows and butterflies that time. HAHAHA.
RETREAT DAY 1 PICTURES!
DAY 2
We had an activity called

"Lights and Shadows"

where you have to write in your good side and bad side. And you have to choose 3 friends and do the same thing.
You have to tell those 3 friends what you have written. Some people cried.
Next activity was a bloody one. It was called

"The Cookie Nibbling Activity"
You have to draw a cookie and divide it into all the hurts that you've been through. So we all told our stories one by one. Confidential stories were spilled. As respect, I won't elaborate that part. When it was my turn to share, I couldn't speak 'coz I was crying and I couldn't breathe. I was the last one to share, so while all of them were crying and telling their stories, my mind was collecting thoughts of some hurts that I've been through. I was preventing my tears to fall while others were sharing. So when it was my turn, tears from my eyes burst which made me have a hard time to speak. Embarrassing.
It was getting late and we have to call it a night. We had prayers with lights off and just our candles lit up. After that, we read our

palanca

letters. The most important letter of mine didn't get on time, but I was able to read it when I got home. Surprisingly, I got a lot of letters. I didn't expect it to be many. I left Hen, Ana, Pat, Lau, and Mike's letters 'coz I wan to read it last. Even the people that are not so close to me wrote me a letter and I thank them for that. I couldn't help but read some more letters since I got carried away by the letter-reading. So I read Lau's and Mike's. I felt a bit teary-eyed by Mike's letter.
So we got back at our room and continue reading our letters. I read the 3 remaining letters from the Betches. I had no more tears left so even if their letters were heart-felting, I didn't cry. Around 2am, the boys sneaked-in once again in our room. Philip talked to us. A new group is formed,

"The Sleepover Club"

"Our first slumber party. Mmhmm"

HAHAHA!
RETREAT DAY 2 PICTURES!
DAY 3
Had mass. I felt suuuper sleepy 'coz we slept at quarter to 4am and woke up at 6:30 am.
Had our last activity where we stick a piece of paper at our backs and let people write some dedications.
Pictures here, pictures there. Had super cool shots with the Betches!
Went home.

"Zzzzzzz.."

for everyone. We all slept super late since it was our last night. Oh yea, during the bus ride, I couldn't sleep and free roller coaster ride for me! Hooray. Go figure.
RETREAT DAY 3 PICTURES!
I would like to share some of the lines that hit me (In a good way):
"...You are one of those people who stood by me when everybody turned their backs on me..."


"...hinding hindi kita ipgpapalit sa kahit kanino, kasi isipin mo, meron na kong perfect na friend like you..."


"...I've seen that you're a wonderful friend and really kind. You're such a jolly person and It's nice to see you always happy..."


"...iba ang feeling pag ikaw kasama ko Bebs, para bang walang dull moments...
...and in your own ways and experience, you always try to cheer me up and give me advices that I really really appreciate..."


"...I value everything na ginawa mo para sakin, na-appreciate ko yung effort mo na mapa-sign yung i-pod ko kay Brandon Boyd..."


"...Be thankful in every morning that you wake up, a brand new day of your adventure in life. God knows how to make your day right."


"Be the best that you can be and live your life to the full!"


"I may not be kind all the time to you, but I hope you know na I super love you.
...you are important to me and you will always be..."


"...but whatever the problem is, pakita mo sakanila na strong ka ...
...alam mo ba sobrang mami-miss kita pag college na tayo? wala na ako mashe-sharan ng mga pinapanuod ko sa Etc...
...basta, don't make any distance with God especially pag may problems.
...I'm just here, the man who calls you Piggy and '6th-floor'."


"...although, days passed and poof...We clicked. It was like uncovering a hidden treasure...
...When I felt bad, I'd call her and we'd be talking for a few hours.
...there I saw that you're someone I'll be friends forever with. Someone who knows every line of Mean Girls...
...you always make me feel well, that I should love myself. You also notice when some thing's bothering me.
...you make my high school days memorable. Each and every day...
...you're a blessing to me. We have countless memories...
...You know that I'm always here and I care."


"...lagi ka lang makikipag-usap kay God. And I'm pretty sure He'll give what is best for you.
...Na-iimagine ko nga na sa future magiging katulad tayo nung sa Sex & The City.
...I will love you to infinity and beyond!"


"...kahit super loner kids tayo noon, we didn't care 'cause we had each other...
...though ang hirap mag survive ng isang day without you kasi kung wala ka, napipilitan ako maging loner kid tas pag uwi sa bahay, diretso ako sa telephone tapos...*cring* 'hello Bevs! bakit ka absent?!?!' Hahaha!...
...I remembered your birthday cake! it had your nickname on it - Shobe - and because of that I thought I ended up in someone else's birthday party. Haha!...
...what made me happy the most is that you never grew tired of me...
...words cannot describe how lucky or blessed I am to be your bestfriend...
...you played abig role in my life and I'll forever hold on to that."


"...may everyday of your life bring you fresh hopes for tomorrow, bec hope gives all of us our reson for trying...
...realize that life isn't always fair. Accept waht you must & change what you can...
...you're blessed and we're blessed to have you...
...my ever dear partner in shopping..."



I am blessed to have all these people surround and guide me. I will forever remeber what you guys have thought me. You made me a better person.



Sunday, July 20, 2008 ' 7:08 PM
I start my day thinking about what I've thrown away...
New blog child.
Since I have been busy lately...I haven't updated. So here's what's been happening.



July 4


Acquaintance Party!
The theme sucked. As usual. It was like a

"fiesta"

theme. We had to wear souvenir Philippine shirts. We all looked like we're in our

pambahays

. Haha.
We danced to the tune of

"Rock Baby Rock"

while the other section danced to

"Annie Batumbakal"


I'm not gonna elaborate more since I find that event boring.
I think pictures are better off to see than me telling it. Haha.


CLICK HERE FOR MORE PICTURES!




July 8


Happy 4th B!


It's me and B's 4th! and I will continue doing this every 8th and 9th day of the following months. Hahaha.




July 9


Happy 4th monthsary

Incubus

!



'Nuff said. I'm obsessed period.




July 19
We missed you Crums!
After review classes, Me and Ana went to Atc to meet up with Lauren, Jb, Pat, Luis and Ruth then Chris followed. We did the usual thing but this time was more fun just 'coz we had the time to have fun with Ruth. I missed hanging out with her.
Pictures worth a thousand memories
:)


Retreat post soon.

;)

Saturday, July 12, 2008 ' 3:26 PM
I start my day thinking about what I've thrown away...
Found inspiration moving forward


"I think perhaps love thrives on unlikely circumstance and chance. Life thrives on these principles, and is life not love? and love not life?"
That was written by

Boyd

from his first book,

"White Fluffy Clouds"

which I recently received days ago (

Refer to June 18, 2008 post).

It was my first time to see the book in actual. I've read about it over the internet and I've been wanting this book since forever. Reading B's oh-so-drowning words inspired me to appreciate the world of poetry. It makes me wander off into the nebula. Hahaha.

I can't wait to have his second book which again I've been wanting since forever.
Auntie said she could buy me the book if I sign up as a member in B's site so that she wouldn't have to type in her personal information.
Thanks again Aunt E!